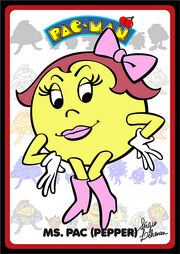 Ms. Pac-Man is
Pac-Man
's wife who appears in her own arcade game of the same name & the other Pac-Man series.
Apperances
Edit
Opening Sequence-She & Pac-Man are seen.
The Good Eleven- She is seen as an angle.
Unpack Your Adjectives-She appears as a backpacker. She also appears to grow into a giantess & stomps on her son Pac-Baby
Dollors & Sence-She & Pac-Man are featured in the segment collecting money.