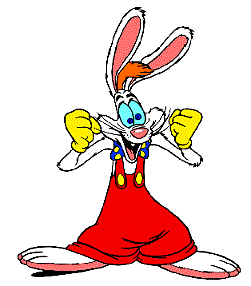 Roger Rabbit is a cartoon rabbit from the movie "Who Framed Roger Rabbit".
Apperances
Edit
Opening Sequence- Roger Rabbit is seen.
The 4 Legged Zoo- Roger is one of the students & his wife Jessica Rabbit is Mrs. Simpson.
Busy Prepositions- Roger, Baby Herman & Eddie appear.
Fire Works- Roger appears with Jessica, Baby Herman and Benny the Cab.