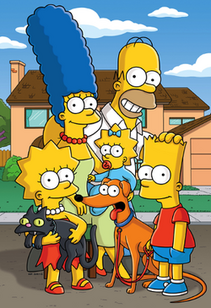 The Simpsons is a cartoon about a family of the same name.
Apperances
Edit
Opening Sequence- Homer, Bart & Lisa are seen.
Lucky Seven Samson- Bart Simpson appears as Lucky & Homer Simpson appears as the cop.
A Noun Is a Person Place Or Thing- Lisa Simpson is featured & Bart, Santa's Little Helper, & Milhouse also appear.
The Checks In the Mail
- Homer appears as a mailman.
Marge Simpson
also appears.